Campus Life
letter excerpts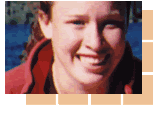 ...What I knew of Lauren was her energy. I remember her with a smile on her face, doing something, doing anything. I particularly remember her piloting a canoe back and forth as we shuttled gear and equipment back and forth to the island where we were camped. She was so happy on the trip and excited about the beginning of the year...
- Brian
---
...I remember the first time I met her she found out that my roommate and I were Canadian. All we heard from her the whole way down the mountain we had climbed that week was "Blame Canada, Blame Canada!" from the South Park movie. She definitely made us laugh...
- Alyssa
---
...My purpose in writing is to relay the information of my last contact with Lauren. It was at School Meeting yesterday just before lunch and her departure for the soccer game. Lauren came to me asking about her time to run an all-sports radio show. I had reserved the 6:15-7:15 P.M. time slot on Friday for her, and asked if she still wanted a full hour or just a half-hour. Lauren assured me that she wanted the full hour and was excited about doing the show. From the smile on her face, the excitement and eagerness was apparent to all around her. Her last moments on campus were looking forward to the future and to participating in that soccer game...
- Ruth