Lauren Shelby Neale-May
June 9, 1986 to October 4, 2000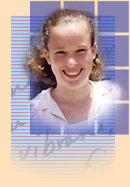 Lauren died suddenly of an aneurysm while she played soccer for New Hampton School. She was fourteen.
This site is a celebration of her life. It stands to remind us of the many ways she was special to us all.
Remembering Lauren, includes transcripts of speeches from her memorial celebration on Friday, October 13, 2000. A large collection of photos can be seen in the Photo Gallery. Lauren's writings and artwork can be found at Created by Lauren, and Kind Words includes many beautiful tributes to Lauren's memory from the people that cared about her most. Finally, Lauren's Legacy offers links to organizations that were important in her life.
For any additions to the site, please contact Donovan Neale-May at donovan@globalfluency.com.
Correspondence can be sent to:
Attn: Donovan Neale-May
GlobalFluency
1494 Hamilton Ave
San Jose, California 95125
Webmaster: info@globalfluency.com