Donovan Neale-May
October 13, 2000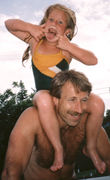 My heartfelt thanks to everyone here today. We have been overwhelmed by the outpouring of support and compassion from so many people around the world. Family, friends, relatives, clients, associates, students, parents, teachers... it's been absolutely incredible and really helped us through a very tough and trying time.
This morning I had a 5am wake up call. It was a sharp reminder of the wake up call every father receives when notified about the untimely death of a daughter or son. Driving over the hill from Capitola on Highway 17 on what is Friday the 13th, I was dazzled by the radiance and intensity of the full moon. It gave me cause for thought and inspiration. Lauren's early life waxed like the phases of the moon. She was, at the time of her death, a full moon. Bright, uplifting and twinkling down upon those around her.
While driving through the sharp bends on 17 and gazing up at Lauren's full moon, I began to think about the branding exercises we go through with clients in my business. Trying to identify the elusive personality of a brand, consultants often ask executives (and politicians, too, I hear) what make or type of car best characterizes their company, or persona.
In looking at Lauren's life, I asked myself what stretch of road best symbolized who or what she was. Was it Route 66 with all its history and nostalgia; Highway 880 with its noise, speed and congestion; a quiet, peaceful country back road; a sedate suburban street fronting manicured lawns; or a bumpy, dusty, pothole-plagued dirt track?
I came to the conclusion that Lauren's life was very much like the one I was on - the infamous Highway 17. Challenging to drive, difficult to handle, precarious in many places, dangerous in stormy conditions, full of twists and turns, but uncluttered, beautiful and inspiring all the way to the waters of Monterey Bay.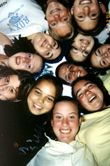 Like Highway 17, Lauren had spent the summer going through many upgrades and improvements. While CalTrans was resurfacing the entire length of 17 so traffic would flow faster and smoother, Lauren was going to mountain camp and summer school so she would be best prepared for the outdoor adventures, dorm room dynamics and academic challenges of the New Hampton School. It was a smooth, clean and newly paved highway ahead of her, a route she believed would take her to new levels of personal achievement, excellence and recognition.
While going through Lauren's school papers, digital files and videotapes, I discovered the three documents you now have in your program. Originally, I was going to read these to you, so you could better understand her feelings, motivations and aspirations. I decided, instead, to reproduce them as a constant reminder of the life and times of Lauren. They will be posted on her web site www.lauren-nealemay.com, along with a rich array of content, images and streaming video and audio.
Lauren had the uncanny ability to look into herself and understand exactly where she had been and where she wanted to go. Lauren's class assignments and journals are wonderful insights into a truly compassionate and caring person, who tried so hard to please and become accepted by those around her. In her English class at New Hampton, Lauren was asked to communicate her personal goals. Here they are at age 14: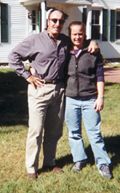 Always the creative thinker, Lauren decided to produce her own antidote to loneliness at boarding school with a visual cure for homesickness any time she wanted it. The day before she left for New Hampshire, Lauren made a personal video documentary of her home and taped a conversation with herself on camera, urging herself to be brave and a good girl while at boarding school. Running 17 minutes, this touching tape captures her feelings of trepidation about leaving home, her closeness and attachment to family, pets and familiar surroundings, while also reiterating her desire to go and be successful in her high school environment. We'd be happy to share this tape with any of you seated here.
Every dad gets asked what they remember most about their children. Here's what comes to mind with Lauren:
Lauren was organized. She took it upon herself to index and properly display every one of my 600 bottles of hot sauce, a collection she knew was a big part of Dad trying to spice up his life.


Lauren was a computer junkie. She loved to trouble shoot the computer systems of my employees and took great pleasure in reconfiguring their desktops and sabotaging our servers. Her new laptop, which she took to school for the first time, already had more than 46 documents in seven folders. That's about one new document generated every day she was at school.


Lauren was a gourmet chef. She talked me into sending her to the Children's Culinary Academy in Palo Alto at age 11 and then proceeded to prepare every Thanksgiving dinner thereafter. This included turkey, stuffing, pies, gravy, side dishes, desserts, pastries and party favors.


Lauren was enormously creative. One of her most artistic works is a ceramic cheeseburger and french fries on display here, proving once again that cooking is a culinary art.


Lauren loved to watch football players and wrestling superstars. Every night I called, Lauren would be at the New Hampton training center. This dedication astounded me until I found out from her soccer mates that Lauren's regimen coincided with that of the football team.


Lauren was an avid golfer. I came across a document outlining an essay for English on "Playing Golf with Grandpa". Her notes indicated Grandpa Burley surprised her by being able to actually hit the ball and driving it further than her. However, she expressed concerns about his age and ability to drive the golf cart.


Lauren was a comedian and entertainer. Her impressions and renditions of Elvis Presley, using a handy hair brush, brought standing ovations at New Hampton. She also lobbied for money to keep the campus radio station running so she could host her own sports talk show, Half-Time at New Hampton.



Lauren was fearless. My earliest recollections of her courage and tenacity were at age 10, where with little or no training, she rapidly scaled the rock face of an indoor climbing center in Santa Cruz. What scared me the most was the fact that brother was belaying and often not paying atttention.
Needless to say, memory flashes and recollections will never depart. We have hundreds of images of Lauren and you'll soon be able to see these on her web site.
Many of you may have recognized the stirring music used in Lauren's multi-image portrait as selections from the soundtrack of the movie, The Power of One. Set in South Africa, this movie is a moving story of the tragedies and travesties of a racially divided society, where one individual fought a brutal system of discrimination to achieve justice and equality for all.
Like the hero in this movie, Lauren is proof of the power of one. She firmly believed she could make a difference. Moving many as one in the direction of helping those less privileged or less fortunate.
Lauren came into this world with incredible courage, strength and character. She overcame many emotional hardships, battled many personal problems. She was not scared to buck the establishment. And she was not hesitant to test the resolve of her parents and teachers. She had strong convictions about what was right and wrong. And she desired so much to help others.
Lauren's life will be remembered as one that impacted and imprinted on many. Every time you look up at full moon, remember Lauren. Because she is still here casting light on a world that is too often filled with darkness.