Ms. Collins
October 13, 2000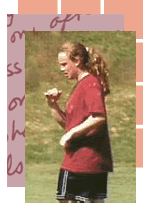 Fall forever will remain your season.
And like the leaves
Before their time is over
Blush earth's warmth
So, you, full of life
And life's force
Left us.
I will remember you
In the crisp, short days of autumn
Favorite child
Of a favorite season.
Crisp, too, the images
And joyful
Of you, playing
Your burnt gold hair
Curling furiously
With speed and sweat
Your sturdy young legs
Churning
I'll make no peace
With your leaving
Except like this
With your lunge, your save
Cheers for you gently fading
From a field framed in scarlet.
If it was not as I imagine
Bear no word of that to me.
I too much need the comfort
To say goodbye.

What goal you sought
What goal you gained
Are challenge for our faith.
But you know, wise child
Oh yes, you know.
You blazed as leaves
Nudged off for new life.
I will hold each memory strong
Each fall for you, until
With fullness of our seasons
We will hold you again.