Dorm Life
letter excerpts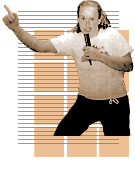 ...We all know how much Lauren loved to be a clown and dance to Elvis. She always kept our room so neat (ha ha ha). She was great to cheer people up and watch the game with (especially wrestling). She had a great heart. I'm going to miss being locked out of my room every morning after I take a shower and have to run around in my bathrobe for 15 minutes until I can find a way to get in. I know she made a great daughter, sister, friend, and roommate and there is no doubt that she will be a perfect guardian angel...
- Melissa
---
(to Lauren) ...I remember the day that I was very upset and down. You ran downstairs, picked up a brush and a cassette tape. As you pressed play, Elvis came on and you began to lip synch into your brush to make me feel better. It instantly made me smile and it was so nice to know you cared to go out of your way to make me feel better. Thank you so much...
- Cara
---
...just last Sunday I was at the Caswell dorm visiting people and as soon as I walked in I could hear someone's oldies music cranked up. As if that wasn't funny enough, I looked through her door and saw her dancing around the room with her broom cleaning up. She's the only girl I know who actually got down on her hands and knees to scrub her floor in the dorm...
- Alyssa