October 5, 2000
Dear Ms. Neale-May,
I am a first year teacher and coach of the girls varsity soccer team. I first met Lauren during preseason, and although she was only a freshman, we struggled with the decision to put her on JV or varsity. Lauren was energized and thrilled to play, and it was contagious.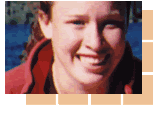 I wish that you could have witnessed the events on this campus in during the past 24 hours. We gathered as a team, both JV and varsity, as a community, as dorms, as friends and individuals joining together with a common tie. During our school meetings, I was overwhelmed by the emotions and sharings that people offered. I have never, and I truly mean that, experienced such a true sense of community as I have during this time of mourning. This school is a better, stronger place and community, and I thank her from the bottom of my heart.
My deepest and most sincere thoughts and prayers accompany this letter.
Thank you,
Lara